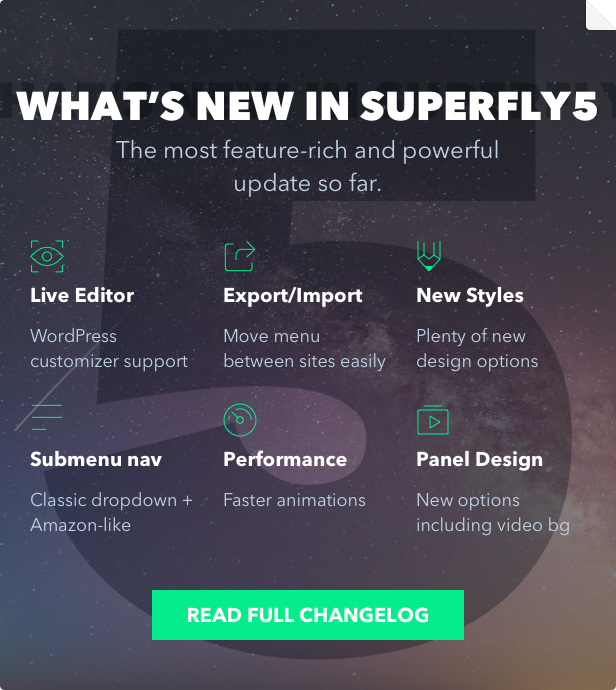 Superfly is a responsive WordPress menu plugin that generates space efficient vertical push/sliding/static navigation, icon toolbar or fullscreen menu of your choice. It can be used as standalone navigation or compliment your main menu. Superfly makes navigation much easier and user-friendly both on desktops and mobiles. Concept of slide in vertical menu that proved itself on mobiles now shines on desktops too! It can be used as always visible navigation as well.
Mouseover interface removes necessity of extra click and user reveals menu with easy move and beautiful appearance. Click option is still available though. Under the hood, only industry's best practices are used for animations and smooth performance.
* * Advanced Toolbar Add-on for Superfly Menu has been released! You asked, we delivered! * *

Can be used as section navigation for one page sites (when menu items has href attribute like href="#contact"). Superfly provides smooth scrolling.

Slide in vertical menu is the trendiest flow in web design these days. Now this navigation pattern comes to WordPress with Superfly WordPress Menu Plugin. It perfectly suits for every modern site.
How it works:
Superfly sits on standard WordPress menu system. So you create standard WP menu (or use existing) in WP admin on Appearance/Menus page and then you choose this menu on Superfly's options page as source. Superfly injects specified menu in its sidebar. Also you have option to specify alternative menu using CSS selector if you want to use some existing menu on page as source for Superfly. Plugin doesn't replace existing theme menus. In this case y ou should disable default menu in menu locations settings or hide by simple CSS (ask advise for this with your live URL).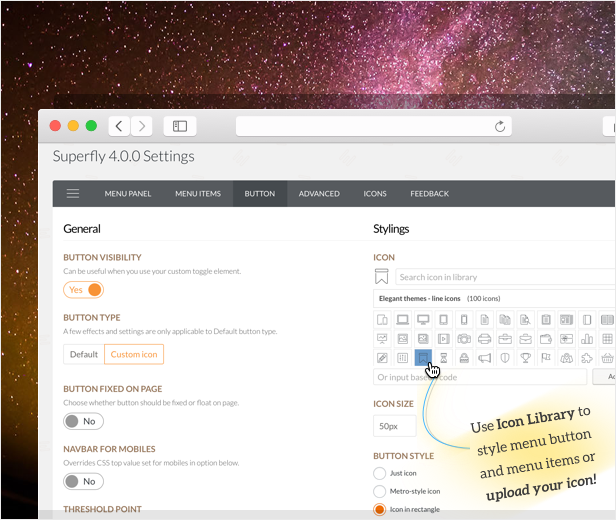 Features:
Various menu modes. Slide in menu, static menu, compact icon navbar, skewed panel, fullscreen mode.
GDPR compliant. Plugin doesn't store any data of your site visitors.
100% Responsive. Superfly suits perfectly to different screen sizes.
Displaying control. Show/hide on mobiles, show/hide on desktops, show on specific pages, show for logged in users etc.
Content areas. Use rich-text editor to add and style custom content or shortcodes.
Trigger settings. Option to hide default menu button (label) and toggle menu from any element like button, link, image etc.
Multiple menu sources. Attach to Superfly as much WordPress menus as you need.
Google Fonts + settings. Choose font family, size, alignment, line-height, colors and more!
Rich elements. Decorate your menu with widgets, shortcodes or any custom html.
Styling menu. Design your menu items by adding images, chapters, separators, icons, second row text etc. Change font settings, colors, background image, your logo and more!
Multi-level menus support (up to 4 levels). Proper adaptation for both desktop and mobile devices.
Menu sections. Group your menu items into logical sections and style it headings.
Smooth scroll. Little but great feature especially for one page websites. Get a smooth scrolling to your anchored elements.
Label fixed to content. Button can be scrolled with content and its floating is disabled.
Icon library. Use pre-installed icon sets or upload your own to style menu items and menu button.
Behavior options. Like pushing content or not, opening on hover or click etc.
Enhanced mobile support. Use Superfly on all devices or mobile only. You can even add navigation bar with your logo for smartphones. Swipes are supported as well.
Rich menu button settings. x,y positioning, base and icon colors, text label, size, custom icon and more!
Beautiful animations. Optimized greatly and created with pure CSS3.
Cosy admin panel. Clean design, simple understandable structure and tons of options handy in use.
Social bar. Facebook, Twitter, Instagram, Pinterest, Google+, Pinterest, Dribbble, YouTube, Vimeo, SoundCloud, Skype, RSS, e-mail.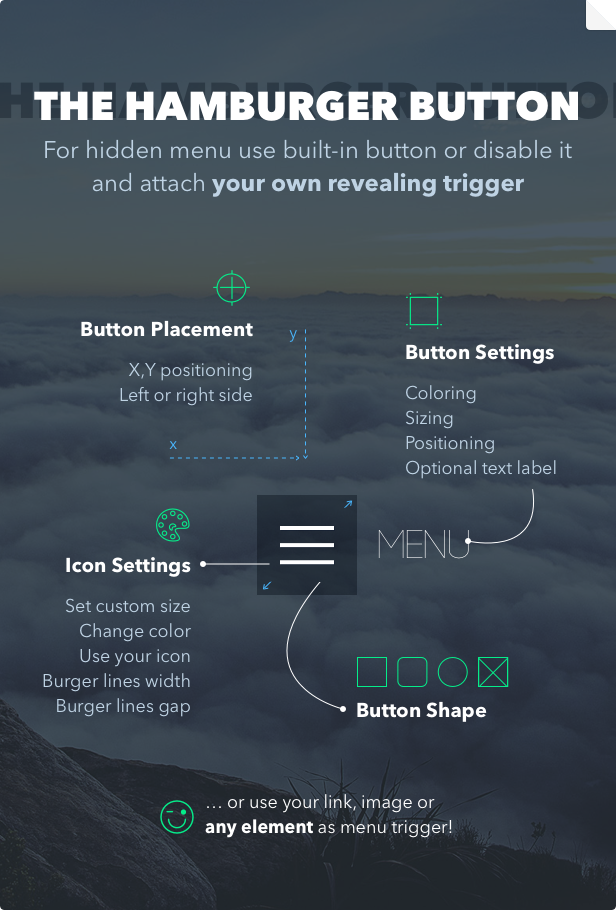 User suggestions:
If you like Superfly WordPress Menu Plugin but it lacks important feature you need feel free to request it! Don?t leave silently. We do listen to your suggestions. Any feedback is appreciated. Please fill a very short form below, it takes 1 minute only. Thanks!
Provide feedback and improve Superfly menu significantly.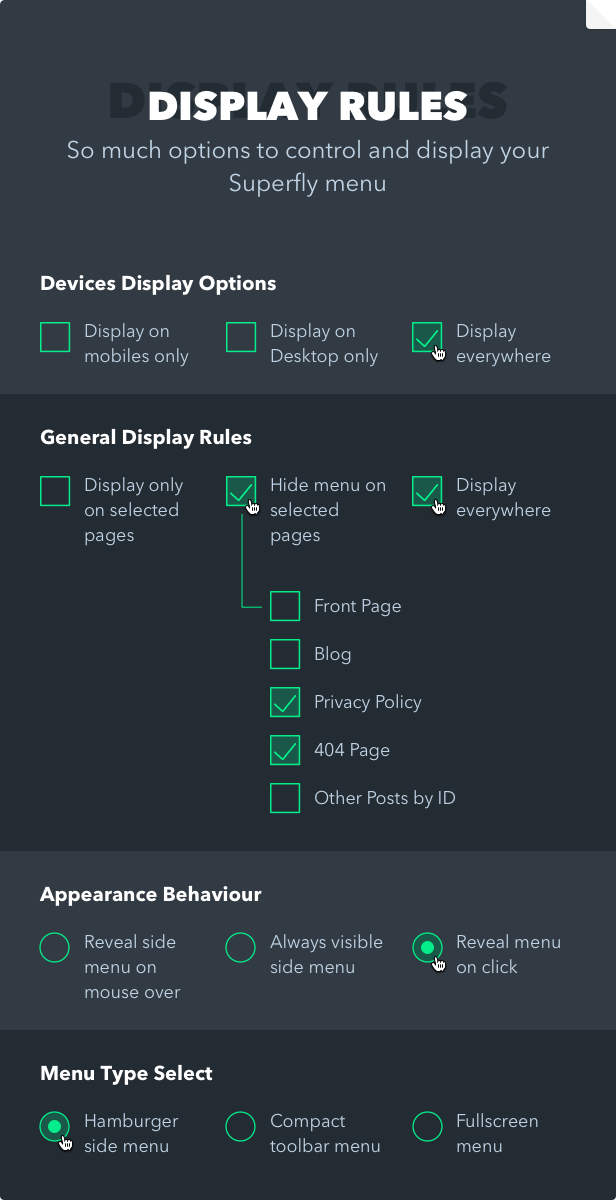 Known issues
Chrome browser has some glitches rendering fixed background (background-attachment:fixed rule) after CSS transformations applied (which is happening when plugin pushes content). Background becomes static and flickers. This cannot be fixed until Chrome devs fix this for their browser. Plugin applies workaround for this case when body element has fixed background. For rest elements it applies background attachment 'static' in Chrome. You can use slide out animation instead of pushing content if you want your background to be fixed.
No RTL support currently.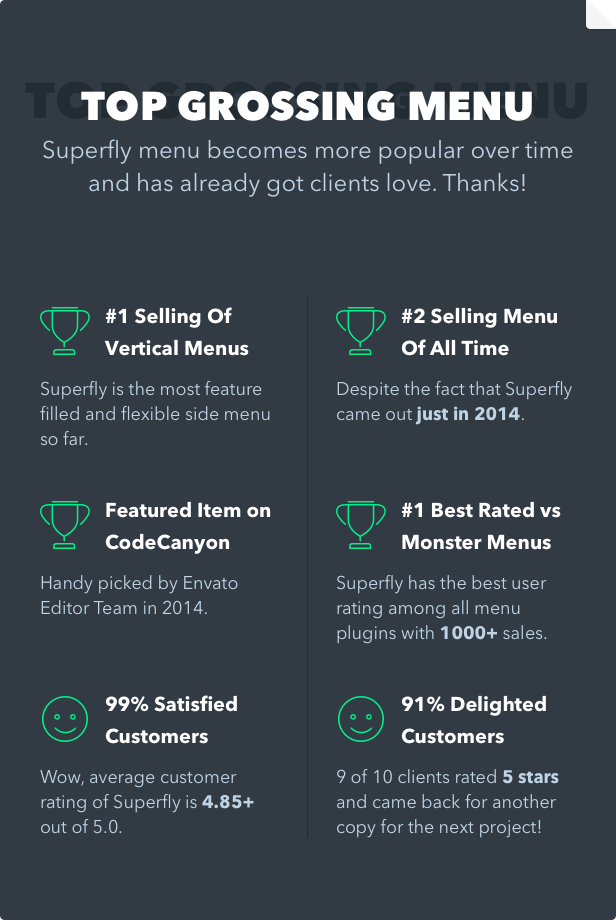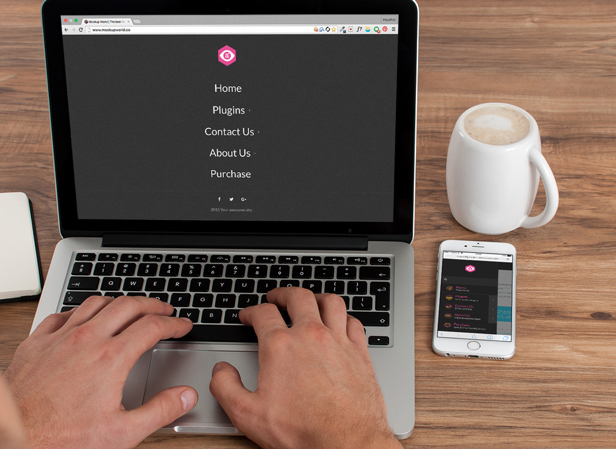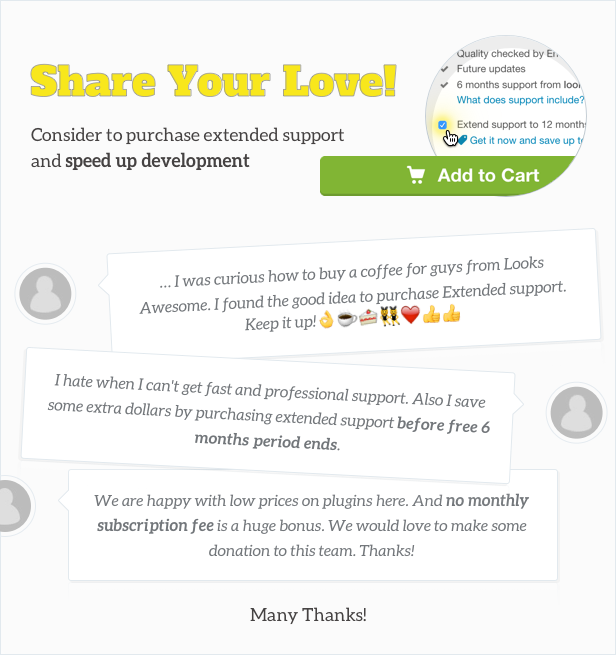 For Developers
Please note that Extended License doesn't allow you to resell our plugin with your theme by default. You have to contact us and get our written permission. Also you may find interesting to learn Offers page on our website. Thanks!
Requirements
– PHP 5.3+ with ZIP extension enabled (one line in php.ini)
– jQuery 1.7+
– Your theme must follow standards and add WP classes to menu items
Changelog
Version 5 Latest

[5.0.24] Fix: Issue for menu item image selector on menus page
[5.0.23] Update: Google font select
[5.0.22] Update: DIVI theme jQuery defer compatibility
[5.0.21] Update: Small change for PHP 8
[5.0.20] Update: Code styling standards improved
[5.0.19] Update: Improved responsiveness
[5.0.18] Update: For icon library and latest WP
[5.0.17] Update: For some outdated code
[5.0.17] Fix: For responsiveness
[5.0.17] Update: For jQuery deprecated code
[5.0.17] Update: For Mac OS "Big Sur" 
[5.0.16] Update: Compat for latest Mac OS version - Big Sur
[5.0.15] Change: using original image instead of thumbnail in menu items (to preserve gifs)
[5.0.14] Fix: for search form on multilingual sites
[5.0.13] Change: icon manager compatibility with server specific security settings
[5.0.12] Fix: production build fix
[5.0.10-11] Fix: Some admin settings did not being saved
[5.0.9] Change: Responsiveness breakpoints
[5.0.8] Change: Conflicted code in Safari when button doesn't appear
[5.0.7] Change: Tabindex accessibility setting for menu items 
[5.0.6] Fix: Small CSS fix for fullscreen submenu
[5.0.5] Fix: Admin JS fix for rare case
[5.0.4] Fix: Small CSS fix
[5.0.3] Change: Improved compatibility with Disqus comments plugin and Rev Slider 6
[5.0.2] Change: Improved compatibility with Revolution slider previews
[5.0.1] Change: Improved compatibility with Oxygen builder
---
[5.0] Feature: WordPress customizer support 
[5.0] Feature: Video background 
[5.0] Feature: Export/import settings
[5.0] Feature: Fullscreen single column and multibox layouts
[5.0] Feature: Submenu navigation ( classic dropdown & amazon like)
[5.0] Change: Faster animations
[5.0] Feature: Highlite color setting
[5.0] Feature: Letterspacing setting
[5.0] Feature: menu items ordered list style 01,02,03
[5.0] Feature: Social icon style (icons or abbreviations) 
[5.0] Feature: Semitransparent BGs
[5.0] Change: More styles for menu items hover 
[5.0] Change: Responsiveness (remove any device dependencies in code)
[5.0] Change: Menu closes when link is clicked
[5.0] Change: Map menu to specific page IDs 
[5.0] Change: Accessibility improvements

Version 4

[4.5.10] Change: compatibility with Divi backend editor
[4.5.9] Feature: setting to disable dynamic font size calculation for Fullscreen mode
[4.5.8] Change: compatibility with latest version of Salient theme
[4.5.7] Fix: for right hand menu position and submenus with custom content opening
[4.5.7] New: advanced setting for interval between mouse events
[4.5.6] Fix: disabling submenus on mobiles setting
[4.5.5] Tweak: adjusting event timeout on submenu mouseover
[4.5.4] Fix: admin white page in some cases in latest WordPress version
[4.5.3] Tweak: more advanced language mapping rules
[4.5.3] Fix: subscription to news list
[4.5.2] Tweak: language mapping rules
[4.5.1] UI: Add-ons tab in admin
[4.5.0] Feature: Compatibility with upcoming extension
---
[4.4.0] Fix: For Icon manager uploading custom fonts on some servers
---
[4.3.6] Fix: Menu mapping settings for languages (show menu only for specific language)
[4.3.5] Fix: RSS & Skype icon
[4.3.4] Update: Contact form 7 support
[4.3.3] Fix: for Skype and RSS icons
[4.3.2] Fix: search icon was mistakenly replaced in previous version
[4.3.1] Tweak: Instagram icon updated to latest version
[4.3.1] Tweak: further responsive layout adjustments
[4.3.0] Tweak: layout calculation adjustments
----
[4.2.1] Fix: Firefox 52 animation glitch for menu items disappearing
[4.2.0] Fix: icon upload/deletion error
----
[4.1.10] Tweak: custom content close indicator on mobiles
[4.1.9] Tweak: improved responsiveness when resizing window
[4.1.8] Tweak: improved fonts loading
[4.1.7] Tweak: handling for PHP warnings in admin in some use cases
[4.1.6] Fix: icon removal for menu items now functioning
[4.1.5] Tweak: navbar mode now fallbacks to standard menu on mobiles so multilevel menus can be used
[4.1.4] Fix: Rare usecase when saving settings in admin doesn't work
[4.1.3] Fix: Activation by purchase code usecase
[4.1.2] Tweak: Icon fonts loading in admin and admin performance
[4.1.1] Fix: CSS fix for usecase with small amount of menu items and skewed panel
[4.1.1] Feature: Checking on activation that ZIP extension is enabled for server PHP
[4.1.0] Feature: Plugin activation for future auto-update functionality
[4.1.0] Tweak: More compatibility with themes tap custom events 
--
[4.0.8] Fix for visible body padding when menu is not on page and always visible mode is on
[4.0.7] Various minor improvements 
[4.0.6] Fix: on WPML sites incorrect logic for location rules
[4.0.5] Correction: location rules for default menu now have lower priority than specific rules
[4.0.5] Fix: Plugin didn't work in Internet Explorer when icons are used
[4.0.4] Fix: Logo on mobiles was broken in previous version
[4.0.3] Fix: Mouseover menu opening didn't work properly
[4.0.2] Fix: Some switchers in admin settings didn't work
[4.0.1] Feature: Default menu can be set if you use multiple menus
[4.0.1] Fix: CSS fixes for always visible sidebar mode and copyright area
[4.0.0] Feature: Multiple Superfly menus per one website.
[4.0.0] Feature: New "Skewed" panel design.
[4.0.0] Feature: Icon manager tab with icon uploading feature.
[4.0.0] Feature: Custom button icon & label.
[4.0.0] Feature: Custom icon for any menu item.
[4.0.0] Feature: Google Fonts selection.
[4.0.0] Feature: New design settings for default hamburger button. 
[4.0.0] Feature: Horisontal shift for menu button.
[4.0.0] Feature: Two additional content areas for menu! Add custom content above & under your logo. 
[4.0.0] Feature: Rich-Text editor for content areas.
[4.0.0] Improvement: More social profiles and contacts in social bar. Pinterest, Dribbble, YouTube, Vimeo, SoundCloud, Skype, RSS, e-mail.
[4.0.0] Improvement: Color selection for non-brand icons on social bar e.g. email icon.
[4.0.0] Improvement: Admin UI/UX reworked.

Version 3.x

[3.2.6] Compatibility with jQuery Mobile if it's used in theme
[3.2.5] Fix for Contact Form 7 compatibility
[3.2.5] Fix for case when using custom menu on page as source
[3.2.4] CSS minor change
[3.2.3] Improved compatibility with Divi theme
[3.2.2] Fix for submenu indicators setting
[3.2.1] Fix for custom menu source handling (when source is menu on page)
[3.2.1] Fix for submenu indicators setting when no indicators chosen
[3.2.0] Fix for broken content delivery in branch 3.1.x (it made button not open menu in some cases)
[3.1.3] [BROKEN] Fix for rare usecase when using # empty links in menu and page transitions
[3.1.2] [BROKEN] Further fix for conflict with Revolution slider in version 3.1.0-3.1.1
[3.1.1] [BROKEN] Fix for mobile detection in version 3.1.0
[3.1.1] [BROKEN] Fix for conflict with Revolution slider in version 3.1.0
[3.1.1] [BROKEN] User suggestions form added in admin
[3.1.0] Minor performance improvements
[3.1.0] Fix for scrolling menu on Android/Win Mobile devices
[3.0.6] Minor CSS tweak for fullscreen mode and button flickering when it's on right side
[3.0.5] Improvements for touch events on Android devices and specifically for Android Firefox
[3.0.5] Font Awesome 4.5 icons added
[3.0.4] Improvements for mouseover mode
[3.0.3] Fix for setting for copyright text ("2015 Your awesome site" always stayed)
[3.0.2] Close button inside sidebar removed when mouseover interface is used for opening menu 
[3.0.2] CSS for double scrollbar usecase on Macs and close 
[3.0.1] Hotfixes for 3.0.0
[3.0.0] Image background setting
[3.0.0] Iconbar mode for static menu
[3.0.0] Full-screen menu improvements
[3.0.0] Section headings setting
[3.0.0] Button new settings and behavior changed
[3.0.0] Lot of UI/UX tweaks
[3.0.0] Social buttons re-design
[3.0.0] Copyright area added in sidebar

Version 2.x

- 2.1.13: Font Awesome CSS update
- Fix for usecase when menu links don't work with certain settings in 2.1.11
- Fix for site Font Awesome CSS inclusion in 2.1.10
- Font Awesome version 4.4 in 2.1.9
- Fix for fullscreen usecase with anchor links in 2.1.8
- Improvement for parent links containing only '#', they will open submenu (in 2.1.6-2.1.7)
- New setting for desktop menu behave like mobiles and slide down submenus (in 2.1.5)
- Fix for fullscreen menu padding on mobiles (in 2.1.4)
- Fix for case when WP installed not in parent URL and logo and search link to incorrect pages (in 2.1.3)
- Fix for search button click didn't submit form (in 2.1.2)
- Tweak for usecase for smooth scroll (in 2.1.1)
- Navbar threshold point added and its appearance logic changed 
- Extension of standard Appearance/Menus page, you can add Superfly extra settings for menu items
- You can attach panels to menu items adding shortcodes or custom HTML in them
- Fullscreen mode
- Widget area in main sidebar
- Minor tweaks and fixes (in 2.0.1-2.0.4) 
- Text settings to place in sidebar under logo or profile picture (in 2.0.6) 
- Tweaks for specific usecases in 2.0.7 and 2.0.8
- Fixes for iPad for static view in 2.0.9
- Adjustments for iPad for submenus opening logic in 2.0.10-12
- Fix for IE9 for scrolling to elements from menu items in 2.0.13
- Fix for usecase when hash link directs to another page  in 2.0.14
- 2.0.15: Fix for bug with submenus opening in 2.0.14 version
- Fix for custom panel opening on mobiles when parent has blank link in 2.0.16
- Fix for overlay background in full-screen mode when window loses focus in 2.0.17
- Hashtag links improvements in 2.0.18
- Fix for disabled page scrolling usecase in 2.0.19

Version 1.x

- New admin panel
- Fix for custom source menus in 1.6.2
- Font Awesome icons for menu items 
- Smooth scrolling added for menus on one page sites
- Fix for mobiles usecase for submenu (in 1.3.2)
- Various tweaks and fixes
- New button style
- Semi-transparent background for panel
- Mobile version navbar as option
- Blur effect for main content on opening
- New sidebar style, menu always visible
- Adding unique IDs for menu items
- Responsiveness tweaks (in 1.1.1)
- Mobile version tweaks (landscape mode improved, expanding animations added)
- Fix for toggling menu from elements on page (earlier it only opens but not closes)
- Sticky highlighting of chosen menu items (while traversing submenus) 
- Added background option from 30 BG images
- Push effect for content on submenus opening (in 1.0.7)

You may also like:
WordPress Menu Plugin — Superfly Responsive Menu Details
| | |
| --- | --- |
| 🏷️ Category | wordpress/interface-elements/menus |
| 📝 Name | WordPress Menu Plugin — Superfly Responsive Menu |
| 💰 Price | $29 |
| 🛒 Sales | 10364 |
| 🔗 Website | Visit Website |