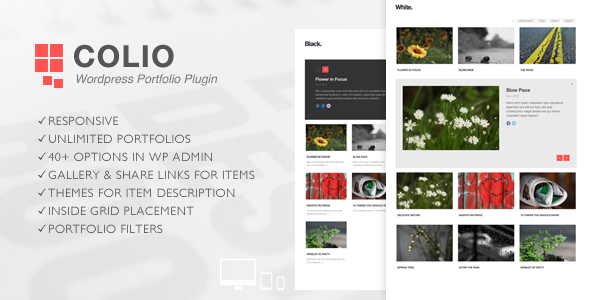 Responsive Grid Portfolio Plugin for WordPress
Colio – Responsive WordPress Portfolio Plugin will help you create and manage multiple portfolios for your website with different sets of items and individual settings. In Admin you can easily select number of columns, choose font size for titles, button color and much more. However main feature of the plugin is its ability to display item details on the same page in form of expandable (sliding down) viewport, that can appear before, after or even inside the grid! Besides this plugin comes with two themes for item details, can display extra photos as feed or as slider and provide social links for easy sharing your works.
For advanced users plugin provides WP filters and action hooks to modify output. PHP code is well commented and structured to allow easy customization and modification.
Finally here is few screenshots for Portfolio Settings and Item Edit
Features
Responsive
Mobile optimized
Retina ready controls
Ajax Content (added in v2.0)
Pagination for items in grid (added in v2.0)
Deeplinking for items (added in v2.2)
Unlimited portfolio instances per site
Percent based grid with 2-3-4-5 columns
Normal or Masonry grid layout
Portfolio with 40+ parameters in admin settings
Separate post type for portfolio items
Item gallery using flexslider and fancybox plugins
Social links for every item (total 20 icons)
Black and white theme for item details
Before, inside or after options for viewport placement
Portfolio filters using Isotope plugin
Filters menu as labels or select element
Translation ready with .po/.mo files
Valid HTML markup
Easy to use and customize
Well documented
Update to version 1.1 # May 20, 2014
- added new option "Filters Alignment" to align filters left or right
- added new option "Extra Photos" to select preferred way to display photos for item. You can choose between "Feed" or "Slider" in both themes!
- added "Copy" button in Admin to duplicate portfolio instances
- fixed problem with "Item Zoom" settings option
- fixed bug with adding multiple [colio] shortcodes to the same page
- added support for earlier WP versions (3.2+)
- made optimizations in code that generates portfolio markup
- changed folder/file structure related to viewport themes (now there is single themes/ folder in plugin dir)
- added @media that changes "View Project" button size depending on screen size and number of columns

Update to version 1.2 # Jun 2, 2014
- "Isotope" plugin updated to v2.0.0
- "imagesLoaded" plugin is now used to trigger grid layout in right time
- added settings option "Transition Duration" to specify duration of grid animation for filtering or resizing
- fixed bug when filter does not work correctly if it consist of two or more words
- fixed bug with displaying portfolio filters that don't belong to the items in selected items group
- resolved problem with missing "Featured Image" metabox for colio items in some situations
- fixed problem with photo feed mouse hover highlight color

Update to version 1.3 # Jun 17, 2014
- <figure> will be used instead or slider if only one photo is added in "Extra Photos" metabox
- fixed portfolio filters menu. When opening item details viewport filters will be automatically hidden
Update to version 1.4 # Jun 29, 2014
- portfolio filters will now appear in alphabetic order
- fixed problem with Isotope v2 and hidden items
- fixed problem with clickable filters even if they're not visible
- fixed problem with vertical centering of "View Project" button 
Update to version 1.5 # Sep 27, 2014
- added new "Grid Layout" settings option that allows to choose between "Normal" and "Masonry" layout mode for portfolio grid. See "White Theme" in preview
- jquery.colio.min.js updated to the latest 1.4 version
- fixed problem with adding "Extra Photos" on some WP installs
- <figure> will be not used to display single "Extra Photo" in slider in Details Viewport
Update to version 2.0 # Jul 23, 2015
- plugin will now fetch item details using AJAX
- added pagination support for grid items
- updated 3rd party plugins: Isotope to 2.2.0, flexslider to 2.5.0, fancybox to 2.1.5, imagesLoaded to 1.3.8 
- updated Colio jQuery Plugin to v1.5
- fixed problem when viewport in "inside" placement mode was overlapping grid items
- performed major code optimizations and improvements
- reorganize plugin file structure to make it clearer
- added setting option to swap main/side content blocks in viewport
- when saving settings in Admin after page reload last edited portfolio will open automatically
- added support for new "Media Manager" (WP 3.5 and up) to upload extra photos
Update to version 2.1 # Jul 28, 2015
- fixed small PHP problem, causing error when installing on WP
Update to version 2.2 # Jul 31, 2015
- added deeplinking support for items
- fixed problem when items don't expand due to the failed AJAX request
- made some changes to "Switch Columns" feature, specifically how markup is generated
Update to version 2.3 # Nov 18, 2015
- added new settings option "Grid Effect" with three effects to choose from
- added new settings option "Animate Position" to disable item position animation
- added arrows to pagination
- fixed problem with deeplinking that was causing page jumping
- fixed problem with pagination and filters
- fixed problem with displaying controls icons on retina screens
- fixed problem with saving "Collapse Duration" option in portfolio settings
- updated Isotope plugin to v2.2.2
Update to version 2.3.1 # Dec 16, 2015
- fixed problem that sometimes portfolio items don't load until permalinks are updated via Settings -> Permalinks
Update to version 2.3.2 # Dec 8, 2016
- fixed problem causing "Warning: Illegal string offset 'taxonomy'" after update to WordPress 4.7
Update to version 2.3.4 # Oct 19, 2017
- fixed/added feature to scroll thumbnail grid back to the top when using pagination controls
Need support?
If you have any questions or need help with customizing this plugin please feel free to contact me using comments dashboard!
Credits & Sources
Plugins used – Fancybox, Flexslider, imagesLoaded and Isotope

Also Spacious Theme and some photos from morguefile.com for plugin demo

CUSTOMIZATION & REMOTE WORK
I'm available also for remote work! So if you need to modify the plugin (add extra features or change existing) feel free to contact me via the comments or via my website's Contact Form. Also I can help to install my plugin or customize it to match your website design.
Colio – Responsive Portfolio WordPress Plugin Details
| | |
| --- | --- |
| 🏷️ Category | wordpress/galleries |
| 📝 Name | Colio – Responsive Portfolio WordPress Plugin |
| 💰 Price | $19 |
| 🛒 Sales | 1127 |
| 🔗 Website | Visit Website |